The Quaresma Group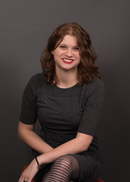 Taylor Nicole Bair
As Charlene's Chief Operations Officer, Taylor runs her office and facilitates all service requests for new and current clients.  Technically minded, she is the yin to Charlene's creative yang.  Opposites in personality, they share the same vision to serve and inspire a community that is in control of their financial future and can dream bigger.

Formerly the Member Services Assistant to the Rental Housing Alliance of Oregon, Taylor is very astute in the world of rental income property and her knowledge complements Charlene's experience as a Portland landlord.

Taylor graduated in 2015 from Concordia University with a Bachelor of Arts Degree in Psychology. Taylor is very active outside of work; playing cello, piano, continually learning sign language, and spending time outdoors with her horses and Great Dane, Bair.